Oil immersed transformers mainly include two types of common oil-immersed transformers and amorphous alloy oil-immersed transformers.
Ordinary oil immersed transformer has the following characteristics:
1. The loss is low, the energy saving effect is remarkable, the winding is wound with oxygen-free copper wire; the iron core adopts three-level full oblique joint, and the paint is bonded to reduce the no-load loss;
2. With advanced winding structure and special winding end support, the product has high insulation strength and short circuit resistance;
3. The use of axial effective compression, special lifting plates, new fasteners and advanced technological measures ensure that the body is fastened and firmly connected with the fuel tank;
4. The vacuum oiling process is used to further strengthen the insulation strength of the product;
5. The product is transported to the installation site without the need for core inspection, saving installation time.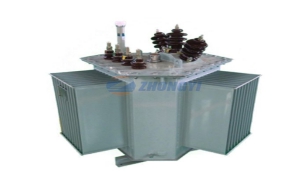 Amorphous alloy oil-immersed transformer has the following characteristics:
1. Adopting amorphous alloy iron core, the no-load loss is very small; taking the amorphous SH15 series as an example, the same capacity, the no-load loss of this series of products is only about 25% of the ordinary S11 series products;
2. It also has other advantages of the ordinary oil immersed transformer.
As a high quality oil transformer supplier, we also offer rectifier transformer.