The American box substation is a product widely used in power distribution systems. It is different from many European-type box transformers. It is not a simple combination of the transformer and high and low voltage switch cabinet, but a new type of integrated electrical equipment developed on the basis of the transformer. Outdoor power substation supplier shares with you.
It is characterized by comprehensively simplifying the structure of the high-voltage side load switch and ring network switch and immersed in the same tank with the transformer, so the volume is greatly reduced, and the cost is correspondingly reduced; another feature is the use of double fuse protection, and its fuse has The current and temperature dual sensitivity characteristics greatly improve the protection sensitivity and reliability. At the same time, the full-closed and fully-insulated performance of the American box substation makes the installation quick and simple and can save the pain of maintenance for a long time.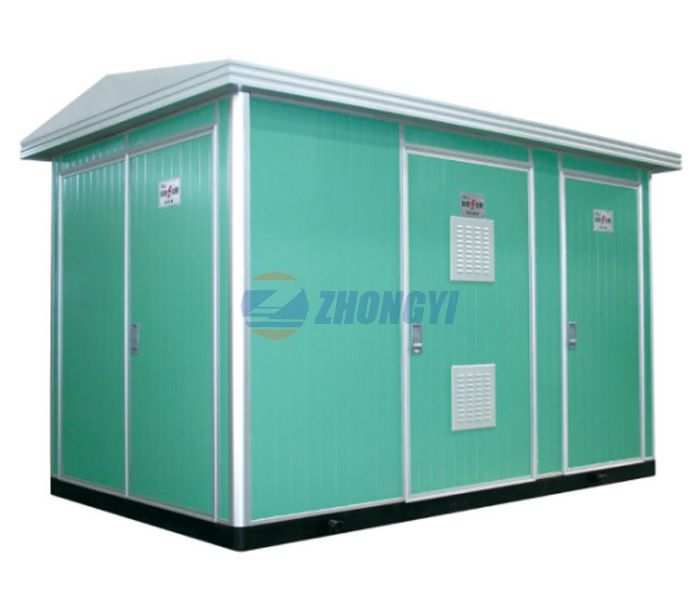 1. Fully sealed and fully insulated structure, no insulation distance required, small size and compact structure
2. Can be used for ring network and terminal
3. Strong overload capacity, allow 2 times overload for 2 hours, 1.6 times overload for 7 hours without affecting the life of the box transformer
4. Dual-fuse protection reduces the running cost. Plug-in fuse is the double-sensitive fuse (temperature, current)
5. The cabinet adopts anti-corrosion design and special spray paint treatment, which can be widely used in various harsh environments, such as stormy and highly polluted areas.
6. The cable connector can cut off 200A load current, and can be operated as a load switch in emergency situations, and has the characteristics of an isolating switch, which is simple and flexible
7.Three-phase five-column structure, high voltage quality, no drift at the neutral point, no heat in the cabinet, low noise, and good lightning protection performance
8. Use high ignition point oil FR3, the ignition point is up to 360 ℃, which can be placed in the building to eliminate the fire hazard, and the transformer can be overloaded by 14% for a long time. At the same time, the life of the transformer can be increased by 8 times.
Our company also provides a hot sale Prefabricated Substation.