What is a Dry Type Transformer?
A dry-type transformer is a type of transformer that never uses any insulating liquid where its winding or core are immersed in liquid. Rather, the windings and core are kept within a sealed tank that is pressurized with air.
Types of Dry Type Transformers
The dry type transformer is of two types. They are
Cast Resin Dry Type Transformer (CRT)
Vacuum pressure Impregnated Transformer (VPI)
Cast resin dry type transformer (CRT) is used in the high moisture-prone areas. It is because its primary and secondary windings are encapsulated with epoxy resin. This encapsulation helps to prevent moisture to penetrate to affect the winding material. Complete protection is achieved by this cast resin encapsulation so that the transformer can work without disruption in high moisture prone area. Thus this transformer is non-hygroscopic.
This type of transformer is available in ratings of 25 KVA to 12,500 KVA. with an insulation class of F (90oC Temp. Rise).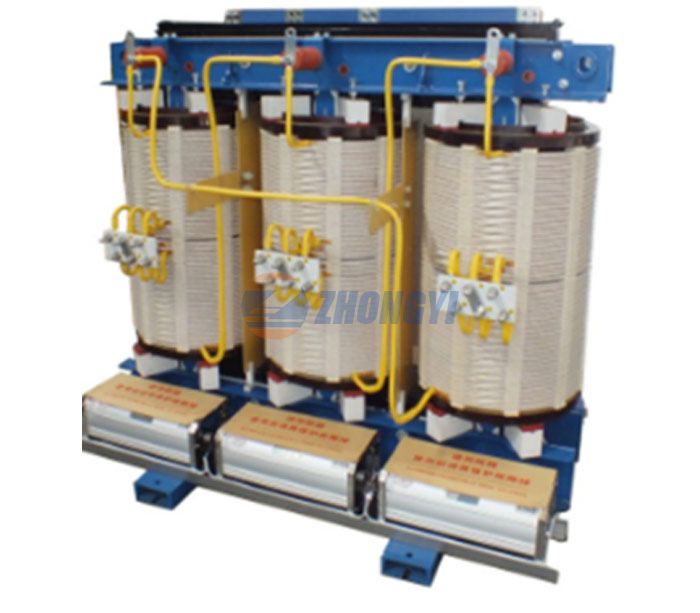 The important design parameters for a dry-type transformer are given below.
Choice of Insulation Type
Generally, the F and H class of insulation is used to insulate the primary and secondary winding. It is because these classes have high temperature withstand property, i.e. 155oC for F and 180oC for H class of insulation. Generally, varnish and polyester resin are used as insulation of the winding. Apart from the temperature withstand capability, mechanical strength; dielectric strength and resistance to thermal shock are the basic capabilities that have to be fulfilled by the insulation selected for the windings.
Selection of Winding Material
Generally, copper and aluminium are used to make the winding or coil. Though copper is a better conductor, aluminium conductor wound transformer possesses low cost and weight. For the same current rating, a copper conductor with less cross-section is used as the winding material in the transformer. The copper coil provides more mechanical strength than aluminium coil.
Life expectancy
The life of a transformer depends on the breakdown of the winding insulation due to the effect of increased winding temperatures caused by overloads. Generally, for dry-type transformers, insulation classes B, F and H are preferred in order to withstand higher temperature gradients including ambient temperature. The design of the transformer must therefore be based on the increase in temperature under operating full load conditions.
Losses
No-load losses mean that core losses and eddy currents are independent of the loading conditions. However, copper losses, including iron losses, occur under load conditions and thus increase the voltage regulation value, i.e. the voltage regulation difference. Leakage reactance and winding resistance must be within the appropriate values to minimise this loss and for better voltage regulation, thus increasing efficiency.
Overloads
Overload conditions can be harmful to transformers for a long time. Overloads are the cause of overheating when the transformer has to meet the demands of the load to which it is connected. As a result, large currents can cause copper losses in the windings and lead to transformer damage. In order to cool the windings, fan cooling systems are provided in dry-type transformers.