Description of high overload oil-immersed transformers
Personnel flow, seasonal changes, residents of different times of day and night electricity consumption differences lead to China's distribution network load fluctuations, distribution transformer capacity and power demand mismatch, the general enterprise transformer no-load or light-load running time of more than 70%, the residents of ordinary transformers no-load or light-load running time of more than 80%, resulting in high transformer losses.
In response to this situation, our company has developed a high overload oil-immersed transformer. The insulation material of this new transformer reaches the standard of insulation class B and higher.
This new transformer meets the normal temperature rise requirements based on 1.5 times rated capacity (3h each for ascending and descending), 1.75 times rated capacity (1.5h each for ascending and descending) in stages of continuous operation for 6h and 3h.
Meanwhile, according to the core material, this new transformer can be divided into amorphous alloy core high overload oil-immersed transformer and silicon steel sheet core high overload oil-immersed transformer.
Model description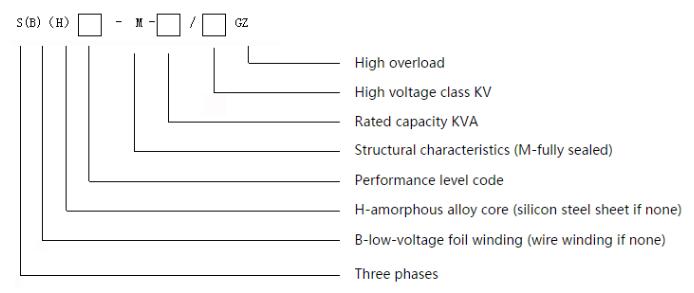 Application
The product has been widely used in new construction and renovation projects of urban and rural power grids, especially suitable for areas with large seasonal fluctuations in electricity consumption, large differences in day and night electricity consumption and daily maintenance. It is difficult. As the transformer adopts fully sealed structure to avoid contact with air, it can be operated in humid environment and is the ideal distribution equipment for urban and rural distribution networks.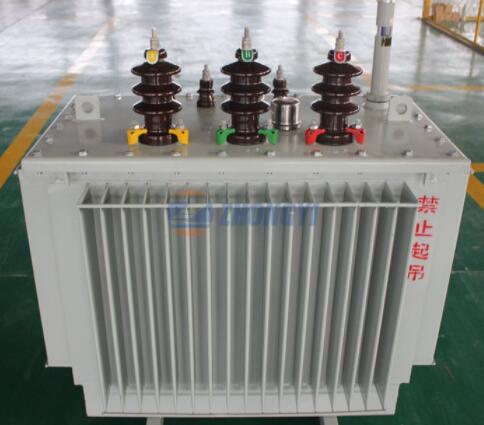 Potential problems with high overload oil-immersed transformers
•Clogged radiator: When you photograph a clogged or closed radiator with an infrared camera, it will appear cold. If you have this problem with your radiator, address it as soon as you find it. If the operating temperature of a transformer rises 46.4 to 50 degrees Fahrenheit, its life will be reduced by one-half. This is because the materials of the insulating windings and construction begin to degrade.
•Signs of Aging: Signs of aging such as insulation deterioration can be a clue to the overall condition of the machine. Components will naturally wear and require more maintenance over time, and it is best to consider upgrading your system at this time.
•Paper Degradation: As cellulose paper ages, it releases furans that accumulate in the oil and cause sludge. This process occurs more quickly if the paper is exposed to contaminants - that's why tight seals are needed.
•Oil Leaks: Leaks can originate from gaskets, cooling radiators/fins, oil tanks, gaskets and various other transformer components. If they are minor and infrequent, they can be repaired, but more frequent occurrences indicate a larger problem.
•Electrical Failures: Electrical problems are usually a common cause of transformer failures. They can be triggered by line faults and voltage spikes. A high-quality surge protection system can prevent this from happening.
Daily maintenance of high overload oil-immersed transformers
The routine maintenance schedule for oil-filled transformers should include oil and temperature checks. Check the ambient temperature, winding temperature and oil temperature to see if they are within normal limits. The oil level gauge should change with temperature, and if it is a magnetic model, it should respond to the presence of magnets by rotating. If it does not do either of these things, this indicates that the indicator needs to be replaced.
Analyze the load voltage and current by comparing them to the rated values. The load settings should be appropriate for whatever type of transformer you are using to avoid electrical damage. Keeping your overcurrent, differential and ground current relays in good condition will also prevent electrical failures.
Noise level is usually a more relevant performance indicator for dry-type transformers. However, if your oil-immersed model is running loudly, it is important to find out what might be causing this phenomenon. High noise levels usually come from the transformer core, cooling system or coils. Noise measurements of power transformers can be expressed using three techniques.
•Sound intensity method
•Sound power level method
•Sound pressure level method

Maintenance checklist for high overload oil-immersed transformers
•Before performing any maintenance, be sure that the transformer is offline and disconnected from power
•Listen for any unusual noise or vibration.
•Check your oil level and temperature indicators.
•Check your machine's bolts and hardware and tighten anything that's loose.
•Perform a visual inspection to detect any paint chips, dirt buildup, rust, or discoloration of the unit.
•Clean any dirt, dust, and debris from the unit.
•If your transformer has a silicone breather, clean it and replace them if it turns pink.
•Address any leaks immediately. it's best to consider replacing it completely.