How are large transformers transported?
How are large transformers transported? Why is nitrogen filled during transportation? Following the High Quality Rectifier Transformer supplier would like to share with you.
Because of the size and weight of large transformers, it is very difficult to move them from the manufacturing plant to the installation site. Transportation of large transformers, usually by rail, road or water transport, generally according to the weight and size of the body of the choice of transport vehicles.
Take the transformer of uhv power transmission and transformation project on huai river as an example. The third main transformer of this project is 6.25 meters high and weighs 345 tons. To transport this huge transformer, transport vehicles with a length of 27 meters can be used. Because of the transformer's incredible weight, the transport vehicle can only travel at a speed of about 3 kilometers per hour, which is about the same speed as human walking. Therefore, the journey from xuyi port to nanjing substation takes 7 hours. 31 kilometers of road with more than 180 high-altitude obstacles, to cross six stone Bridges... In order to ensure safe transportation of these giants, power grid enterprises have established a complete set of transportation guarantee system, and cooperate with departments and units such as transportation, road administration and transportation companies to eliminate obstacles on the transportation line, deal with weak links such as roads and Bridges, and make every effort to ensure the safety of transformer transportation.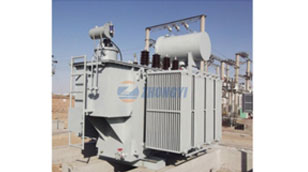 High Quality Rectifier Transformer Supplier
Due to the large transformer weight is too large, in order to reduce the weight in the transportation process, the oil in the transformer body will be partially or completely discharged, and the space after oil discharge will be filled with nitrogen, so that the body will not contact with air.
Our products are widely used in different industries, including power plants, chemicals, construction, mining, metallurgy, railway transportation, etc., we supply High Quality Rectifier Transformer, Oil Immersed Transformer China, and can best meet the needs of various users.
Baoding Zhongyi electrical material manufacturing co., LTD. Follows the enterprise tenet of "details determine success or failure, integrity casts the future" and abides by the business philosophy of "integrity-based, innovative ambition". We will always treat our customers warmly and provide you with satisfactory qualified products and services.