The high and low voltage switchgear equipment and control cabinet are used as electrical equipment for power transmission, power distribution and electric energy conversion, and are used for power generation, transmission, power distribution, electric energy conversion and control of electric energy consumption equipment. The product has simple and reliable "five prevention" interlocking function to prevent misoperation, with novel, flat, simple appearance, uniform color and heavy proportion coordination. The secondary trunking in the high-voltage room adopts all metal protection, which makes the operation safer and more reliable. It has more humanized man-machine interface, explosion-proof operation and other characteristics.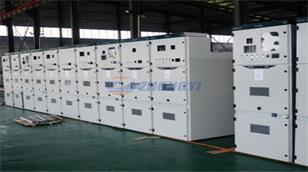 The switch cabinet is an electrical device. The external line of the switch cabinet first enters the main control switch in the cabinet, and then enters the sub-control switch. Each branch is set according to its needs.For example, instrument, automatic control, motor magnetic switch, various AC contactors, etc., some of them are equipped with high-voltage room and low-voltage room switch cabinet, high-voltage bus, such as power plant, etc., and some of them are also equipped with low cycle load shedding for main equipment.
The main function of the switchgear is to open, close, control and protect the electrical equipment during the power generation, transmission, distribution and power conversion of the power system. The components in the switchgear are mainly composed of circuit breakers, disconnectors, load switches, operating mechanisms, transformers and various protection devices.
This is the entire content of the sharing, thank you for reading, high voltage switchgear manufacturer also provides high quality power transformers for sale, if you have any needs for our products, please feel free to contact us.