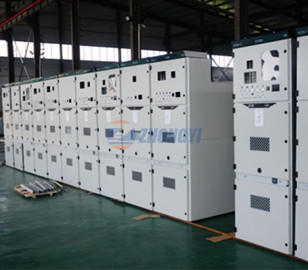 GCK Low-voltage Draw out Switchgear
What is a Switch Cabinet
Switch cabinet is a kind of electrical equipment. The outside line of the switch cabinet enters the main control switch inside the cabinet first and then enters the sub-control switch. Each sub-circuit is set according to its needs. A combination of one or more low-voltage switchgear and its associated control, measurement, signaling, protection, regulation, etc., in which the manufacturer is responsible for the completion of all internal electrical and mechanical connections and the complete assembly of structural components.

The main function of the switchgear cabinet is to switch, control, and protect the electrical equipment in the process of power system generation, transmission, distribution, and power conversion. The components in the switch cabinet are mainly composed of a circuit breaker, isolation switch, load switch, the operating mechanism, mutual inductor, and various protective devices.
Switch Cabinet Structure and Composition Classification
In order to protect the safety of human and equipment, switch cabinets are divided into several compartments in different ways:
Bus room: including horizontal bus room and vertical bus room functional unit room (switch compartment)
Cable outlet room: includes cable room secondary equipment room
1. Main components of the switch cabinet
Cabinet: the shell skeleton and internal installation and support parts of the switch cabinet
Busbar: A low impedance conductor that can be connected separately to several circuits
Functional unit: All electrical equipment and mechanical parts that perform the same function (including incoming and outgoing units).
2 .Incoming line (plug-in bus duct or cable) mode
Aspirant line; Next in line; Side in line; The last inline
3. Outlet mode (plug-in bus or cable)
The front outgoing line (top or bottom) can be mounted against a wall
Rear outlet line (top or bottom) may not be mounted against a wall
4 .Classification of busbars:
Main bus (horizontal bus): A bus that connects one or more distribution buses and/or incoming and outgoing units
Distribution bus (vertical bus): A bus line within a frame unit that is connected to the main bus line and provides power to the outgoing unit
5. Functional unit classification
Fixed: the connection of the main circuit can only be connected and disconnected if the switch cabinet is disconnected
Movable type (fixed separation type): it can be safely disconnected or connected from the main circuit under the condition that the main circuit is live. It has the position of connection and removal
Withdrawal type: it can be safely disconnected or connected from the main circuit when the main circuit is live. It has the position of connection, test, separation, and removal
6. Installation method
Installation location: Indoor installation; Outdoor installation
Type of installation: wall-mounted; Away from the wall to install
Classification of fixing methods: Bolt fixing; Welding fixed