Transformer enclosures are designed to keep out most small animals and foreign objects. However, in some locations, you may need to consider additional protection. Transformers installed in common areas must be constructed so that they cannot be penetrated by foreign objects, or the unit must be protected by fencing to keep out the public and animals.
For dry-type transformers, the core/coil assembly (without enclosure) usually has mounting and terminal dimensions suitable for your enclosure requirements. The enclosure should provide protection for the coils with adequate clearance and sufficient ventilation openings. The manufacturer should always be consulted to determine these requirements.
The top cover can be designed for cable entry or exit with a bolt-on cover. However, the insulation of cables placed above the transformer may deteriorate prematurely due to rising heat. Therefore, side and bottom cable entries and exits are recommended. Please note that conduits, bus ducts, etc. must be independently supported, as the top cover is not designed for these loads.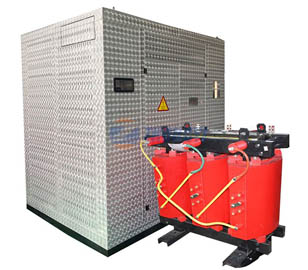 Dry-Type Transformer
Minimum electrical clearances for mounting lug and cable must be observed in accordance with NEC Sec. 373-11.
Vented dry-type transformers can be designed for installation indoors or outdoors. They will operate successfully in areas of high humidity, but in such cases, if they are shut down for a period of time, precautions may need to be taken to keep them dry.
When operating, measures should be taken to arrange for frequent inspections to ensure that no surface contamination is present on the powered parts of the dry-type transformer. CAUTION: Ensure that the equipment is disconnected from power first. Excessive contamination can cause problems and may even lead to transformer failure. For locations with harsh atmospheric conditions, it is best to use a transformer filled with liquid. However, if a dry type is still preferred, a fully enclosed, unvented unit; sealed coil unit; or cast coil transformer should be considered.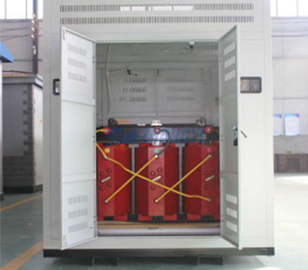 Dry-type Transformer
Areas with dripping water should always be avoided. If this is not possible, appropriate protection should be provided to prevent water from entering the transformer enclosure. Precautions should be taken to prevent accidental entry of water, such as water that may enter through open windows, water or steam pipe breaks, or nearby.
Adequate ventilation is a must. Adequate ventilation is essential for the proper cooling of dry-type transformers. For these types of installations, the use of clean, dry air is desirable. It is highly recommended that you take steps to install the ventilated dry-type transformer in a location free of unusual dust or chemical fumes. If such a situation exists, a wet unit or another form of the dry unit should be used. Filtered air may reduce maintenance if contamination is a problem in that location.
When a transformer is installed in a vault or other restricted space, you should provide sufficient ventilation to keep the air temperature within established limits when measured near the transformer inlet. For dry-type transformers, this typically requires approximately 100 cubic feet of air per minute per kW of transformer loss. The required vent area depends on the height of the vault, the location of the opening, and the maximum load to be carried by the transformer. For self-cooling transformers, the required ventilation area should be at least 1 sq. ft. per 100 kVA of rated transformer capacity, minus the area occupied by screens, grilles, or louvers, for each 100 kVA of air inlet and outlet. This is approximately equivalent to the requirements of NEC Sec. 450-45(c).
If you want to get more information about the best transformer for sale, welcome to contact us today or request a quote.