Electricity in daily life is the most important well-being for human beings, but when it comes to power supply, it needs to be done safely. Therefore, it is difficult to maintain a safe level of power distribution by using safety devices. There are different types of devices that can help protect electrical equipment and its connections in different areas such as industrial and residential. To overcome this problem, switchgear is used as it has different features and functions. The device is used to assist in carrying and distributing the load while maintaining the electrical connectors. It helps in identifying faults and faulty connections, thus reducing damage. Next, the switchgear supplier will share the following content with you.
What is switchgear?
Definition: A device used to switch, control and protect circuits and equipment. It is concerned with switching and interrupting currents under different operating conditions (e.g. normal or abnormal). In power systems, it is an arrangement of electrical disconnect switches, circuit breakers, and fuses used to protect, control, and separate electrical equipment.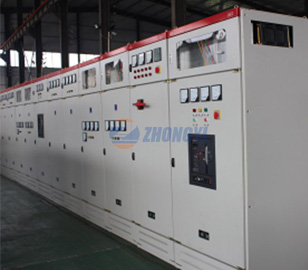 Low Voltage Fixed-mounted Switchgear
Types of switchgear
Switchgear is mainly divided into two types: outdoor type and indoor type. Output switchgear is used for voltages above 66kV. Because of high voltages, the construction works will unnecessarily increase the installation cost due to the large conductor spacing and insulator size.
Below 66kv, there is no difficulty in providing construction work for switchgear at a reasonable cost. The indoor type switchgear is metal-clad and compact. Due to the compact structure, the safety clearance for operation is also reduced, thus reducing the required area.
Features of switchgear
Its main features include the following.
Manual control provides
Fast operation
Fully defined discrimination
Complete reliability
How does the switchgear work?
Automatic protection switchgear consists primarily of circuit breakers and relays.
In case of a fault, the relay operates and usually closes the tripping circuit and automatically disconnects the faulty line. Afterward, the normal operating part operates normally and with the required power load. Therefore, no equipment is damaged and the supply is not interrupted.
When any fault or defect occurs in the power system, all appliances are susceptible to high currents, which means that equipment may be damaged and the power supply interrupted.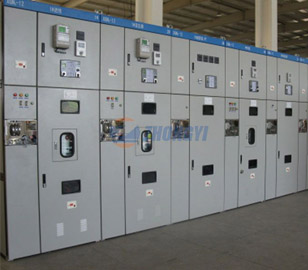 High Voltage Switchgear
HV: High Voltage Switchgear
The power system controls voltage over 36KV, which is known as high voltage.
As the voltage is usually high, the arcing generated during transitioning operation is also high.
Therefore, additional care is taken during the manufacturing of high voltage switchgear. A high voltage circuit breaker is actually the major part of HV switchgear, that's why high voltage circuit breaker needs to have specific features for reliable and safe operations.
LV: Low Voltage Switchgear
In most cases switchgear which is rated up to 1 KV is usually called low voltage switchgear.
The term LV Switchgear consists of low voltage switches, earth leakage circuit breakers, HRC fuses, offload electrical isolators, molded case circuit breakers (MCCB), and miniature circuit breakers (MCB).
MV: Medium Voltage Switchgear
From three KV to thirty-six KV switchgear systems are sorted as MV switchgear or medium voltage switchgear.
Most of this switchgear are of several types. They are usually metal-enclosed outdoor type, metal-enclosed indoor type, indoor or outdoor type without the metal enclosure, and so forth.
The interruption channel of this particular switchgear is a vacuum, SF, and oil. The primary responsibility of the MV power system is to disrupt heavy current during defective situations no matter what type of CB is being used in the medium voltage switchgear system.
If you want to know about the wholesale best switchgear price, welcome to contact us.